"We test the 10 yard dash", says Michael Boyle, a strength and conditioning coach.
10 yard dash?  I'm familiar with the popularity and usage of the 30, 40 and 100 yard dash but not so much with the 10 yard dash.  As I investigate further, I find some very interesting and useful information that you can use immediately in your fitness bootcamp.
The 10 yard dash is used to increase power and decrease the number of steps over a 10 yard distance.
Nobody wants to get injured and the 40 yard dash is notorious for causing hamstring strains due to lack of warming up, incorrect sprinting mechanics and running too many 40 yard "repeats". *
The start of a sprint, is the easiest area to improve. When compared to the 4 ten yard segments that make up a 40 yard dash, the first 10 yard segment takes more than 1 1/2 times as long to run.
The probability for injury is almost non existent when using 10 yard sprints.  Michael Boyle reports that he has never "seen a hamstring occur in a ten yard dash" when training his clients.  And he trains a lot of clients.
SPRINTS
We all know that sprints are great exercises for our bootcamp clients. The singer Pink, used lots of sprints to get in amazing shape after the birth of her child.  Sprints don't require any equipment, they can be used in a main workout, no one has to wait for their partner or teammate to finish, and if you need to amp up the intensity with sprints, simply run faster.
But how do you run faster?
Good question.  Here is some information that will help you and your clients sprint faster while providing a great workout.
At the NFL (National Football League) testing center (combine), a fast 10 yard sprint clocks in at around 1.59 or less.  In this case study, the athlete weighed 188 lbs and covered 10 yards in 1.59 seconds.  At the 2015 "True Athlete Games" in Austin, Texas, the female winner ran 10 yards in 1.87 seconds at a body weight of 134 lbs.  This will give you something to shoot for.  Of course, there are so many ways to time sprints (electronic start/electronic finish, hand start/electronic finish, hand start/hand finish) that times will not be completely accurate.  The times given above are just a bench mark.
Develop stride length in the first 10 yard segment by pushing, NOT by overreaching.  The key is teach your clients to "push", not "reach", and to minimize stutter steps.  A good sprinter will run the 10 yard dash in 5 or 6 steps.  Line your bootcamp clients up, have them run the 10 yards and count how many steps they take.  Be aware, though, if you tell them how many steps they take, they may begin "reaching" instead of "pushing".  So work on "pushing" to become a faster sprinter.
Those who can produce the greatest force into the ground, will yield the greatest benefit.  This is where those one legged squats, one legged jumps and one legged balance drills pay off.  The stronger each leg is, individually, the more force "pushing" can be used in the sprint.
Master the first 3 steps over five yards.  If a good sprinter takes  5-6 steps over 10 yards, break it down and have your bootcampers run 5 yard sprints with 3 steps as the goal.
There is a strong correlation between vertical jump and sprint speed: both are a function of force into the ground.  Box jumps, squat jumps, and knees to feet jumps are awesome to use for improving sprint speed.
"BUT I'M RUNNING A BOOTCAMP, SCOTT – NOT A SPRINTING CLINIC!"
Yes, you're right.
BUT…when you pick an exercise like 10 yard sprints, 1 mile run, hands off push up max in 60 seconds as a monthly goal to improve upon, your clients will really get into the fact that you care enough to help them improve in some measurable way.  The best bootcamps have become more than just an hour of mindless push ups, sit ups and jumping jacks.  Give them a way to improve and they'll talk (brag) to their friends at work, in their neighborhood and on facebook.
That will perk up others ears about what you are doing at your bootcamp and bring you more potential clients.
Sprint Drills
Partner up.  Have partner #1 hold a thai pad.  Partner #2 is the sprinter.  Partner #1 says, "On your mark, get set, Go!".  Partner #2 dives into the pad from the start position.  This is an up close drill where there is only a yard in between partner #1 and partner #2.  This teaches "first-push" power.  Partner #1 can do 5 dive starts and then switch.  Encourage communication between partners so that safety is utilized.  Start off at 50% power and then ramp up the power/intensity over the 5 dive starts.
Everlast Thai Pad (Black)
Break the group up into 5′s.  Of the 5 in a group, have bootcamper #5 time bootcamper #1.  Bootcamper # 5 says, "On Your Mark, Get Set, GO!" and times bootcamper #1 over 10 yards.  It will only take 2 – 2.5 seconds. Bootcamper # 5 calls out the time, hands the smart phone or timer to bootcamper #1.  Bootcamper #5 joins the others.  Bootcamper #1 times bootcamper #2.  Repeat this for 2-3 minutes (or more) total time as a group.  Determine the fastest time of your group and compare it to the other groups.  Use the fastest time as the new benchmark for the next time that you conduct this drill.
Have the entire bootcamp group do 10 yard sprints (not timed) using just one leg AT THE START.  Right hand down, right foot down, left foot stays off of the ground.  The bootcamp instructor says "On Your Mark, Get Set, GO!" and everyone pushes off of their right foot only for the first step and then sprints as normal over the rest of the 10 yards.  To even things out, you can have them do the same drill but with their OTHER leg for the same amount of time.
Repeat this drill for 1-2 minutes.  If they are left handed, they can put their left hand, left foot down.  You'll see some slow sprinting at first BUT they will build more power quickly if you stay consistent with this drill.
There's much more to sprinting than just, well, sprinting.  You can create whole bootcamp workouts from sprinting and discover new techniques that will result in faster, more athletic bootcampers.
And they'll brag all about themselves and you on facebook
I'm getting ready for Austin Fittest on May 30th and you can bet that I am doing tons of sprint work right now.  One of the events is the 40 yard dash and I'm counting on all of the above to help me sprint my best time ever.  You should film your sprints.  You'll notice changes that you can make in your mechanics and power to become a better sprinter.  The video below was shot back in February of 2015, I see some glaring weaknesses in my sprinting that I have since corrected.  Can you spot them?
Questions?  Comments?  Let know below.
- Scott
P.S.  Here's a Brand New Program that is centered around SPRINTS and it's only $9.00 as of today!  Check it out here.
* Advances In Functional Training, pg 167, Michael Boyle
6 days ago
Posts
bootcamp fitness games, bootcamp workout games, bootcamp workout ideas, fitness bootcamp workout ideas, fitness class workout ideas, fitness workout ideas, fun fitness bootcamp games, good group workout ideas, group fitness workout ideas, outdoor fitness boot camp games, outdoor fitness games, outdoor fitness workout ideas, outdoor group fitness exercise ideas, sprints for bootcamp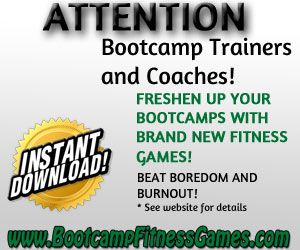 Bootcamp Fitness Games YouTube Channel
Scott York Fitness YouTube Channel
Popular Posts
Categories